SWERVEDRIVER
The Deaf Institute, Manchester.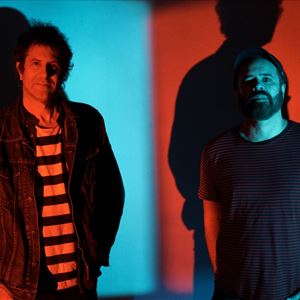 14s - 17s must be accompanied by an adult. No refunds will be given for incorrectly booked tickets.
More information about SWERVEDRIVER tickets
"Space travel rock'n'roll" – that's how the band initially self-identified their sound. This was back in the 1990s, before the aspirational dreams of the computer age collided with reality. Across the four-album arc of their first era – Raise (1991); Mezcal Head (1993); Ejector Seat Reservation (1995); 99th Dream (1997) – Swervedriver made music that was all about the journey: songs called For Seeking Heat, Planes Over The Skyline, Juggernaut Rides, 93 Million Miles From The Sun And Counting. Swervedriver simulated the thrill of propulsion, the euphoric arrival, the anticipation of going back again (or not)… of moving on.
And move on they did. During 10 years in absentia, the band's legend grew. Sages spoke mistily of these four desert rock horsemen of the apocalypse who came from Oxford and were shunned as exiles in their own land. In 2005, a two-disc anthology was compiled with the band's involvement, and foretold a resurrection. Sure enough, the trip resumed in 2008, with Swervedriver encountering the acclaim they ought to have enjoyed a decade earlier. A fifth album, I Wasn't Born To Lose You, emerged in 2015, a mere 17 years after its predecessor, and trumpeted some eternal Swervedriver virtues: the intricate, fissile guitar patterns of Adam Franklin and Jimmy Hartridge, baked hard then dispatched in giant monolithic waves by a tactile rhythm section including drummer Mikey Jones. As the opening song Autodidact had it: "Holy fuel forever spilled".
So much for the resurrection, now for the reckoning. The new Swervedriver album is titled Future Ruins, a two-word précis of its dread thrills. It opens with Mary Winter, a song narrated by a recognisable Swervedriver archetype: a traveler, hurtling away from this world. "Planet Earth long gone/And my feet won't touch the ground." But where is the traveler headed? And why? The second song, The Lonely Crowd Fades In The Air, offers some possible answers: "We've stumbled into the end of days/Where the future comes home to cry…"
"There's a lot of foreboding with regard to the future on this album," agrees Adam Franklin. "Space is in there a lot too. In the first song, the character is a spaceman who's trying to remember what life is really like. Also, it could be about somewhere in the world where winter isn't like the winter here. A sunny place, but its December or January and you're trying to remember winter. Something's going on."
That something began in October 2017, with a two-week stint of tracking at MAKE Records Studio in Los Angeles. Having made I Wasn't Born To Lose You hard on the heels of an Australian tour, the band decided to repeat the process and bottle the momentum of a just-completed US tour performing both Raise and Mezcal Head in their entirety. "That's a good way to record," says Adam, "because you've literally just seen the whites of the audience's eyes and you're thinking, 'If that audience from last night were here now…' You can't get too mellow. We came home with 30 different songs."
The final 10 tracks were then mixed in spring 2018, as the band toured Europe – again, infusing the recordings with road-slick fumes. Future Ruins exhibits Swervedriver's fabled widescreen escapism, but with a tension that echoes a sleeve image of Coney Island in skeletal monochrome, like a post mortem photograph of a failed utopia. The title song offers a grim assessment of humanity's current condition: "We are ruled by fools/These are future ruins/That the king is insane/Is now old news."
So the journey's over, and yet Swervedriver ride on. Just as there was never any thought of I Wasn't Born To Lose You being a last hurrah for old time's sake, Future Ruins presents a band moving with real time/real life vitality. It showcases new tricks and classic hallmarks: pop songs which don't have choruses, like Mary Winter; odd arrangements and weird contrasts, like Spiked Flower's rock'n'roll grind breaking out to acknowledge English landscape painter John Constable; and a lyric that references Echo & The Bunnymen. See if you can spot that one…
So space travel rock'n'roll: it still applies.
"Sometimes I think we're deceptively complicated, which is better than being the other way around!" Adam laughs. "I love being back in this band. We're playing places that we've either not played in a long time, or new places like Singapore, where there were 20 year old kids there and they're singing the words to the *new songs… We don't want to be the band that just plays the old albums. We're glad to have a whole bunch of new songs. We're on it again."